Festival of science 2016 in Hvar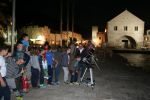 From 21 to 23 April 2016 Festival of Science was organized with the support of POKRET project at city hall in the town of Hvar, and this year's festival theme was "Science and Art". The event was organized by the Observatory Hvar and the Elementary School of Hvar, Stari Grad, Jelsa and the Archaeological Museum in Zagreb.

Science Festival is being held for the 14th consecutive year in Croatia and its goal is to bring the science to pupils of primary and secondary schools and the entire interested general public. This year, the Science Festival was organized in 18 cities in Croatia, and it was the second time that city of Hvar hosted it. Compared to the last year, organizers offered a much richer program and the Festival in Hvar lasted for three days, that was visited by students of almost all schools on the island (elementary school of Hvar, Stari Grad and Jelsa).